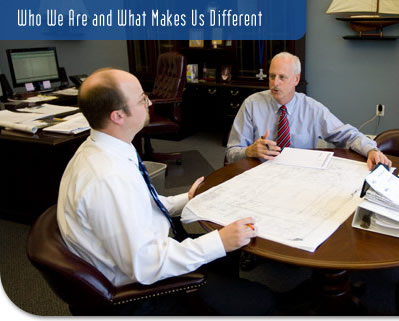 Welford Engineering's
Vision and Values
As a firm, our leaders and employees have adopted the following corporate vision:

"Become the leading Engineering, Surveying, and Environmental Services consultant in the Fredericksburg region through our commitment to our clients, our innovative designs, and dedication to our employees and their families."
Welford Engineering's Key Corporate Values:
Larry Welford created Welford Engineering based on his desire and the desire of his senior managers to provide for their own futures and the futures of their families. The corporation embodies the core values and beliefs of its owner and managers, and as such, has adopted the following as the company's core values:
We will help our Clients to achieve their goals by providing high quality, responsive, professional, and personal services. In return, our Clients will provide us with fair and reasonable compensation for the value that we bring to their projects.
We will treat our clients, our competitors, our employees, our families, and each other with courtesy and respect.
We will operate our business in a fiscally responsible manner to ensure the future of our firm and the future for our families.
We will take pride in our accomplishments, share in our disappointments, accept responsibility for our actions, and grow personally and professionally as a result of each.
We will achieve a balance in our personal and professional lives that leaves us professionally fulfilled, personally satisfied, and emotionally energized.
We will pursue a plan of responsible growth to provide our staff with opportunities to grow with the firm.
We will have fun together.