Quality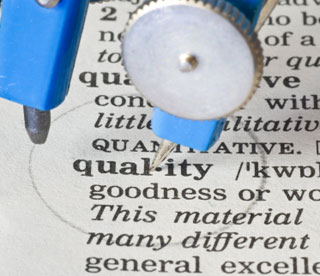 Quality Control (QC) for all projects at Welford Engineering is planned from the inception of the project through the entire design and plans preparation process to project completion. The Project Manager is responsible for coordinating and monitoring quality control of the project with independent peer reviews performed within the company. Quality Control has three stages:
First Stage:
Review sets are prepared and work on the project is temporarily suspended for internal review of all design calculations and plans. Plans are reviewed by senior level professionals not just for technical quality but for presentation, technical accuracy, clarity and technical completeness. Plans are edited by the appropriate reviewer using a corporate standard color methodology. The edited sets of drawings are returned to the department director and revisions and modifications are made.
Second Stage:
All changes or edits are reviewed a second time. As changes are incorporated into the documents, the marked up drawings are noted as having been corrected. At the conclusion of the revision process, the marked up drawings reflect that all identified changes have been made and the plans are ready for final review.
Third Stage:
The modified documents are returned to the original QC reviewer for a final review. The reviewer completes an overall review for the key quality standards set forth above. Provided that the information is technically correct, well presented and clearly represents the intent of the document, the Project Manager completes a final review, and signs and seals the documents. It is at this point that the documents have met Welford Engineering's quality standards and are ready for submission to the client and appropriate review agencies.
Quality begins at project initiation and is not considered complete until the Project Manager determines that he or she is satisfied with the product. We take pride in the quality control standards that we apply to our work and our finished work product.