The Staff at Welford Engineering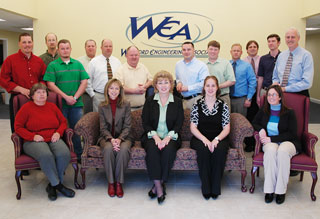 Welford Engineering prides itself on the talent, creativity, and professional commitment of its staff. Our firm fosters a creative and dynamic work environment that provides our engineers and staff with the technical challenges they seek and the collaborative and cooperative platform from which they excel as a professional. Our engineers take a team approach to developing creative solutions to complex development issues by tapping into the skills and talents of various organizations involved in large projects. This collaboration and creativity is paramount to completing project deliverables on schedule and within budget. As a result, we deliver design solutions to our clients that are highly innovative and cost effective and often exceed their expectations.
Our staff is fully prepared to assist clients in a timely and professional manner at all times. We believe that continuing education for our employees is essential to delivering the top quality service that our clients demand. Welford Engineering provides regular internal training sessions that instruct staff on the importance of superior customer service, the latest trends in engineering best practices, and continual improvement in methods for quality assurance. We also support and encourage our employees to earn advanced degrees and professional licenses in their areas of expertise.
The quality, professionalism, creativity, and responsiveness of the Welford Engineering staff are among the core values that distinguish Welford Engineering from other engineering or surveying companies in the area.